When you think of Fall and Winter, you probably imagine fairly subdued, seasonal colors. Rusts, burgundies, olives – you know, the usuals. Neutrals and earth tones for the colder months? How groundbreaking. 
But the Fall/Winter 2021 color trends are cooking up a little somethin' somethin' to keep things fresh. Sure, you still might see the usual colors, but we promise there's going to be a few tasty gems that you probably weren't expecting.
Here are six Fall/Winter 2021 color trends that may surprise you – and keep you inspired until Spring and Summer roll around again.
Scarlet Oranges
Rusts and terra cottas have always been a regular feature in Fall and Winter color trends. But this year, it's been kicked up a notch or two. Instead of the earthy oranges of yesteryear, this year's oranges are closer to a vibrant, scarlet hue.
If you'd rather introduce this color in smaller doses, you can start with a pair of shoes. The OnCloud men's Cloud shoe features this bold, pumpkin hue without getting too overbearing about it. Instead, keep it neutral on top to complete this seasonal look effortlessly. Or, pair it with some of the classic earthy hues, like olive green or khaki, and make your whole ensemble just a bit more festive.
Lemon Yellows
Move over neutrals; yellows are here to stay for the season. And they're getting zesty about it. Mustards and ochres are a relatively standard part of many Fall and Winter wardrobes. But this year, we're going to keep things fresh, even as the leaves fall and we move into the dreary winter months.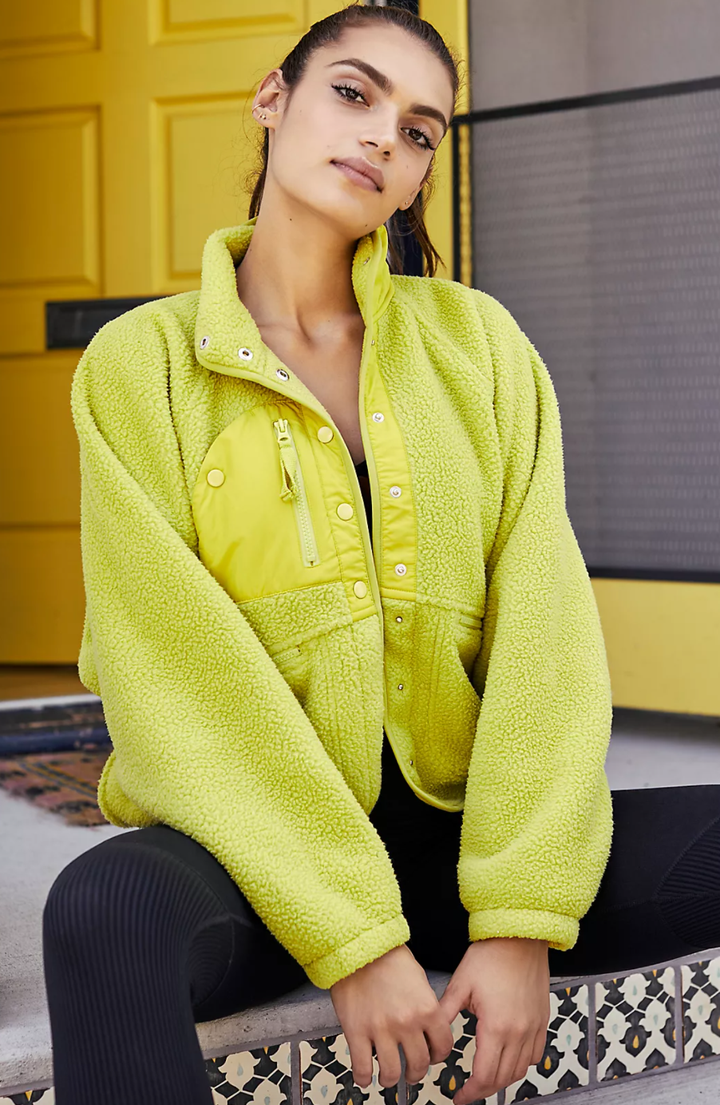 The beauty of this lemon yellow color is that it'll brighten even the dullest of days. Add in a splash of vibrant coziness with Free People's chunky fleece jacket in pineapple punch. All you need is a great pair of leggings and a solid pair of shoes to keep out the wet weather, and you're set for the season!
Bright Pinks
Think pinks are only for warm weather? False, my friend. It's about time we made pink a year-round, gender-neutral color. Pink is the new black. From bright fuschias to powdery pinks, everyone's sure to find a shade that they love in the Fall/Winter 2021 color trends.
Why not go all out with this playful pink? 'Tis the season to use color to inspire you – even on dark, drab days and long, cold nights. You might be surprised how a daily dose of youthful pink can help keep you upbeat and avoid the dreaded seasonal affective disorder.
Rich Greens
Nothing says Winter like verdant, rich greens. Pine, Spruce, Evergreen – no matter what you call it, we're here for this deep green color. It's the perfect alternative to the all-black vibe. Heck, it might even help you feel more grounded as you flow through that vinyasa yoga routine.
Lush greens are made to be worn all day. So whether you're at the gym squeezing in a quick sweat sesh or popping by the grocery to grab a few last-minute things – this green's got you covered. Unlike light colors, it'll hide stains well and even give you the slimming effect that's usually reserved for your favorite all-black outfit.
Deep Indigos
This isn't your average blue hue. Instead, fall/winter 2021 color trends embrace this deep, bold indigo hue with open arms. And this time, it's ok to get the blues. From accessories to full getups, this tone is universally flattering on all body shapes, sizes, and skin tones.
Try mixing and matching textures with this indigo color. For example, pair some indigo leggings with a fleece or faux fur jacket for a little bit of everyday luxury. Or, put on your favorite indigo sports bra under a sheer top and layer up for a little extra warmth. The options are endless!
Bold Reds
It certainly seems that bold reds will never go out of style. Of course, crimson always seems to be a staple Fall and Winter color, but it's got way more vavavoooom to it this year. So instead of blending into the fall foliage, dare to stand out with lively reds that'll keep you inspired and energized throughout the season.
You can start small or go full throttle with this energizing tone.  Red's a power color, after all, and there's no better inspiration than feeling fiery. Try pairing it with other bold colors for an artsy feel – or go full monochrome. You can't go wrong either way.
Let the Fall/Winter 2021 Color Trends Inspire Your Activewear Closet
This year, the Fall/Winter 2021 color trends took a surprising turn. While they haven't completely shirked the standard cold-weather colors of the past, they're committed to reinventing them. Sure, you can still don your favorite muted colors. But why not add in a splash of bold and vibrant variations for a little extra inspiration.
Find your favorite hues and spice up your cold-weather activewear wardrobe today.